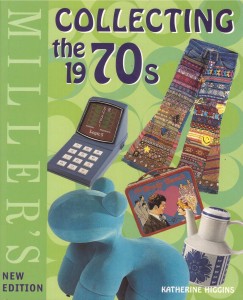 Dirty Harry, Star Wars, Elton John, Charlie's Angels, the Sony Walkman… The list of 1970s icons goes on and on. But do you know how much your relics of the era are worth?Or if the sofa in the spare room is a design classic? Collecting the 1970s is the definitive guide for all fans of this fabulous decade, which spawned postmodernism, glam rock, disaster movies, punk and much, much more.
Memories of visiting Biba's Kensington Emporium and trips to London's Kings Road in the early 1970s helped to spark Katherine's effervescent passion for the decade. Proud to be one of Laura Ashley's youngest followers she used her needlework skills to design floral accessories and run up "ever so flouncy" dresses for her school chums before dancing to the Bee Gees on the disco floor .
All the exuberance and excitement of 1970s design is explored in detail. Taking you through the maze of products available, Katherine reveals the ins and outs of the 1970, from the glamorous furniture and high fashion of the decade, through to the records, clothes, films, and toys that dominated the high streets of the day.
Her popular study of the disco decade re-evaluates the collectability of flared fashions and floral homestyle. "Quite right," she says, "I grew up with it… I love it… and so should everyone else!"
Amazon Customer Reviews…
"What a decade !!! This book covers all bases from the glam rock scene to the familiar Homepride Man. Katherine Higgins book is a must for retro collectors and new collectors alike. She writes with first hand experience of the era and not just as someone who has just relied solely on research material. If you ever wondered what your parents ( or even Grandparents !) 1970s goodies are now worth, look no further than this book. Try not to despair on what you may have thrown out but start to scour those car boots for nostalgic bargains. Truly a retro collectors bible ! Groove on Katherine."
"As I am very nostalgic I was very pleased with the book. Looking through the book I was transported back to the 1970s."
"I bought quite a few of these books as gifts for my siblings one Christmas. It's a trip down memory lane; platform shoes, flares, the first calculators & Chopper bikes. Objects from the 1970's were zany shapes, sharp colours and stylish. If you fancy collecting from this period this is the book for you too. This book includes photos of over 340 collectable pieces."
"As I have recently developed an interest in this era and beyond I found this book a good reference point for these decades"