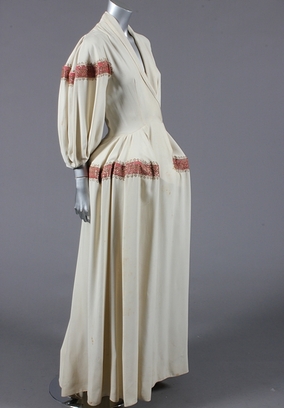 Now I've had my fair share of good finds over the years (most recently on my Put Your Money Where Your Mouth Is series for the BBC) and I'd love to say that this one was mine… but sadly… it was the lucky chap who was out foraging at in a London street market who struck gold. The photograph I've included shows a rather glamorous and hugely rare Lanvin from 1945 but when the lucky shopper first spotted it, this dress was cumpled, cast aside and looked somewhat forlorn. It was only a discrete Lanvin label that encouraged him to part with ?70 for the dress. And how clever that was. After a spot of professional cleaning to remove the grime and stains it was escalated to stardom becoming the top lot in Kerry Taylor's 17th April auction. There was a complete buzz in the air as the room saw a bidding war break out. Three telephone bidders jostled for the top position and finally, this glorious piece was sold by Kerry to a European private collector.
The dress label helps to date it to 1945 – a year before Jeanne Lanvin died and the year of liberation from German occupation at the end of World War II. The House of Lanvin stood at 22 Rue du Faubourg Saint-Honore and even when the first German troops enterered Paris in June 1940, Lanvin remained open. "It is necessary to adapt to present circumstances by creating simple things, which will be very beautiful," Jeanne Lanvin said at the time.
What also made this dress unique was that a miniature version of it appeared in 'Le Theatre de la Mode' – an exhibition of the best of French couture which was displayed on dolls and exhibited in Paris and London in 1945 in aid of post-war charities. Lucien Lelong the president of the Chambre Syndicale de la Couture Parisienne, spearheaded the exhibition which aimed to show the best of French haute couture – but in miniature. In the introduction to the exhibition catalogue it stated "The French manufacturers seek to convey to London for the first time in five years, their faithful remembrance and deep feelings of sympathy" in reference to Britain's war-dead. He also stated that the exhibition was "but the latest of a series of activities whereby the Paris Fashion Houses have sought to safeguard their independence and their workers, while contributing towards the funds of `Entraide Francaise…it is not intended to represent luxury or lavish use of materials; it is instead a proof of ingenuity and good taste"
The unusually generous hip line was made possible by discrete horse hair panniers beneath. One of Lanvin's claims to fame in her early career was the 'Robe de Style' which also used panniers to emphasise and extend the hip line, which was widely imitated in the early 1920s. Before and during the war, Lanvin had dressed many actresses who played leading roles in historial stage and screen dramas, which made her obvious historical references even more fitting.
A wonderful tale of precise provenance and a spot of good luck combined – now that's inspiration for us all – well done Kerry!
Image: copyright Kerry Taylor Auctions